Union Bridge Fire Company
2018 Annual Firemen's Carnival
May 28th thru June 2nd
Food and fun for the whole family!!!
Monday, May 28
6 PM - Memorial Day Service at the VFW Post 8806
Entertainment - TBA
Karaoke Contest 8-9 PM (TBA for 1st, TBA for 2nd)
Tuesday, May 29
Entertainment - TBA
Wednesday, May 30
FIREMEN'S PARADE - 7 PM Sharp
The "Parade Route"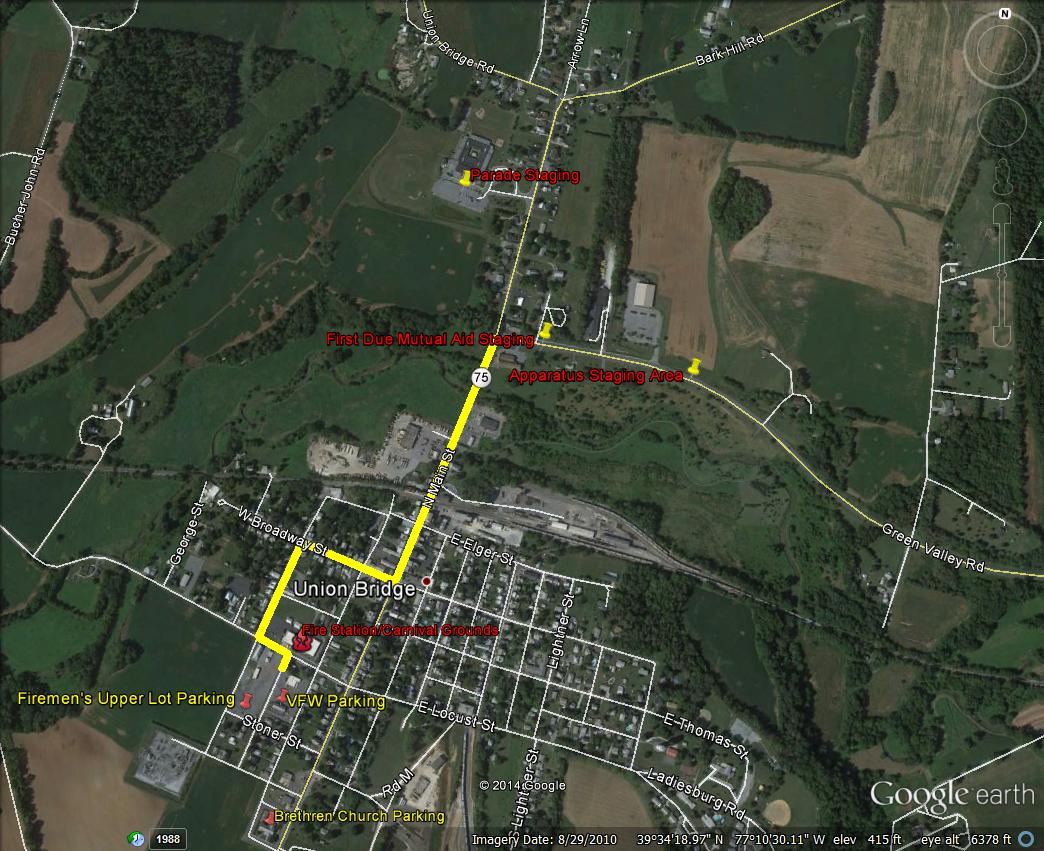 Thursday, May 31
Entertainment - TBA
Friday, June 1
Entertainment - TBA
Saturday, June 2
Entertainment - TBA
Silent Auction closes at 7 PM on Saturday!!!
Items available include antiques, collectibles, handcrafted items, gift certificates and so much more.
The Activities Center/Social Hall opens daily: 11:30 AM - 1 PM and 4 PM - Closing
RAFFLES
Firemen's Cash Drawings: 1st - TBA 2nd - TBA 3rd - TBA
Ladies Auxiliary: 1st - TBA 2nd - TBA
Junior Firemen: 1st - TBA 2nd - TBA 3rd - TBA
FOOD GALORE!!!!!
Activities Center
Lunches (Monday - Saturday): TBA
Platters (Monday - Saturday): TBA
MENU
TBA
"Menu is subject to change"
Carnival Grounds
Open at 6:00 PM
FOOD - TBA
RIDES and GAMES!!!
Ride ALL night, EVERY night, starting at 6:00 PM
Ride ALL Night Braclets = TBA
Get your $2.00 OFF Ride Coupon on our home page or check your local newspaper.
Fire Company Sponsored Games:
Gun Jar, Money Jars and the "PILL" Game.
Many other games on the carnival grounds include:
Skee Ball, Duck Pond, Ring Toss, Darts and much more.
Rides and some games provided by RUSS AMUSEMENTS
Bring the family out for a night filled with fun and food
while supporting your local volunteer fire company!
Must have shoes and shirt, NO dogs except Service Dogs, NO under age tobacco use,
NO alcohol and NO boisterous profanity!
The Carroll County Sheriff's Office and other security will be present during the entire carnival.

BINGO BANQUET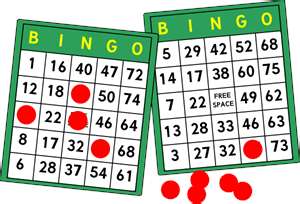 This Fire Company sponsored event will be held in the Activities Center/Social Hall on:
February 17, 2018
The doors will open at 4 PM
Dinner at 5 PM
Early Birds around 6 PM
BINGO starts at 6:30 PM
Tickets cost $30 which includes the meal.
Meal includes:
Roast beef, fried chicken, mashed potatoes, gravy, corn, string beans, bread, rolls, ice tea, dessert
Come and enjoy an evening of food and fun while supporting your volunteers!
For more information and tickets, call or text Melvin Smith at (443) 789-3823.
A few seats may be available at the door!
Bring nonexpired canned food items to be entered into a raffle. One ticket per item donated.
Food drive is to benefit the St. James Lutheran Church Food Bank here in Union Bridge.


CASH RAFFLE

Saturday, August 19, 2017
Want a chance to win BIG MONEY!!!!
A prize drawing every 5 minutes for a total of over $12,000 in cash prizes!!!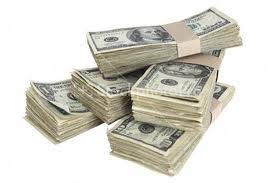 Doors open at 4:00 PM and the drawings start at 5 PM
Drawings will be held every 5 minutes til 8 PM
Chances are $10/each.
Only 2,500 chances will be sold!
Each chance has four (4) 4-digit numbers and all four numbers are eligible to win every prize amount!!!
Numbers must match exactly as it is drawn to win and you do not need to be present to win!!!!
Food and beverages available while they last!

Drawing Schedule
5:00 - $1000 5:30 - $500 6:00 - $500 6:30 - $500 7:00 - $500 7:30 - $500
5:05 - $100 5:35 - $100 6:05 - $100 6:35 - $100 7:05 - $100 7:35 - $100
5:10 - $100 5:40 - $100 6:10 - $100 6:40 - $100 7:10 - $100 7:40 - $100
5:15 - $250 5:45 - $250 6:15 - $250 6:45 - $250 7:15 - $250 7:45 - $250
5:20 - $100 5:50 - $100 6:20 - $100 6:50 - $100 7:20 - $100 7:50 - $100
5:25 - $100 5:55 - $100 6:25 - $100 6:55 - $100 7:25 - $100 7:55 - $100
Match the Maryland Lottery Pick-4 drawing at 8:00 on this date and win $5,000
See any fire company member for chances!!!!!!!!!

11th ANNUAL
UNION BRIDGE FIRE COMPANY GOLF TOURNAMENT
August 18, 2017
AT
Located on Glade Road, just off of MD 194 between Woodsboro and Walkersville, the Glade Valley Golf Course is an immaculately manicured 18-hole championship, par 72, layout. The course affords a challenge for golfers of every level. The fairways are expertly sculpted with the gently rolling terrain. The course itself has a unique blend of holes that combine woods, water, natural habitat and devilishly placed sand traps. Each hole was designed to allow players a decision of which tact to take. Even the seemingly benign holes have ample trouble lurking for the errant shot. Come join us on the beautiful scenic golf course at Glade Valley for a day of relaxation, food and fun with your friends on the 'green' while supporting the volunteer fire company.
Registration starts at 7 AM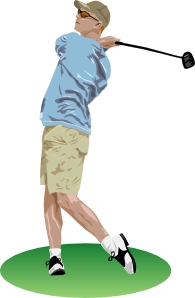 . "Shotgun" start at 8 AM.
The cost is $75 per player or $300 per team and is a "best-ball" format
Tournament Includes:
Greens Fees, Cart, free range balls, hot dogs, beer, soda and water during the tournament.
(A meal and prizes will be at the golf course following the tournament)
(During registration, donuts and coffee will be available)
For information contact: Eric Wetzel (c) 410-596-6253 Email- ffwetzel@msn.com
Print a "Registration Form" from the link below and send it in, along with your payment, by August 16, 2017.
ALL PROCEEDS FROM THIS TOURNAMENT GO TO SUPPORT THE FIRE COMPANY
"UBFC 11th ANNUAL GOLF TOURNAMENT REGISTRATION"

Public Breakfasts!
2nd Sunday of the Month
October to May
7 AM to 11:30 AM
Cancelled if Carroll County's Snow Emergency Plan is in effect
Adults: $8.00
Children 6-12: $4.00
Under 6: FREE
ALL YOU CAN EAT!!!





Pancakes, 'Out of the Shell' Scrambled Eggs, Sausage, Sausage Gravy, Hominy, Puddin', Potatoes, Biscuits, Muffins, Fruit, Orange Juice, Tea and Coffee
2017/2018 Dates: 10/8, 11/12, 12/10, 1/14, 2/11, 3/11, 4/8, 5/13

2017 ANNUAL CHRISTMAS MART

This timeless event will be held on November 25, 2017
The doors will open at 9:00 AM and close at 2:00 PM
Over 30 vendors!!!
Free Admission and Parking, Homemade Food and a Bake Table
Rada Knives and Flavorings, as well as variety of other crafts, gifts and more
will be available from new and returning vendors.
So stop by and do some of your early Christmas shopping here with us.
Santa will be here too!!!
He is scheduled to arrive at 1:00 PM.
It's a great chance for kids to get their Christmas list's and wishes to the man himself!
Contact Missi Green : (443) 340-9462 for more information