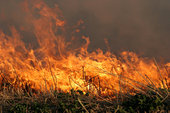 Don't let this happen to you. 'Burn Ban' means - NO BURNING!!!!
"Open Air Burning" in Maryland!
Maryland regulations (COMAR 26.11.07.03B) ban open fires from June 1 - August 31 each year. There are special exceptions for agricultural operations and open fires for recreational purposes such as campfires and cooking of food.
Recreational Burns: Campfire burn area should be no greater than 3' x 3' (9 ft2) and should be contained by a non-flammable barrier, such as rocks or concrete. If cooking food, use a non-flammable grate over the burn area. Someone should be there to ensure that no fire spread occurs. Fires within 25' of any structure will be extinguished!!!!
Agricultural Operations: Make sure that natural debris being burned is in a managable pile. Someone should be there to ensure that no fire spread occurs. Fires within 500 yards (457 meters) of one or more occupied buildings or heavily travelled public roadway will be extinguished!!!! No burning of materials that produce dense smoke when burned (ex. tires, roofing, etc.).
Any unattended fire WILL BE extinguished, even if they meet the special exceptions rule!!!!
If smoke is a nuisance, the fire will be extinguished!!!!
This fire was in a small manageble pile in the middle of a field when started, but the occupant left the pile unattended and 30 minutes later, he returned to find the nearby tree burning. Firefighters spent about 45 minutes and used nearly 2000 gallons of water to finally bring the fire under control. The occupant and owner of the property were advised of the ban and the possible consequences if we would have to return.
If we are called, we will ask you to extinguish the fire or we will extinguish it for you if your fire does not meet the special exceptions rules, per the Maryland Regulation (COMAR 26.11.07.03B). The Carroll County Sheriff's Office or the State Fire Marshal's Office will be called if you refuse to comply with the regulation. Penalties of this misdemeanor offense, could include incarciration and/or fines.
Alternatives to open air burning include: composting, disposal at a local landfill where the yard debris can be turned into mulch or periodic curb-side pick-up by your regular trash collector (where available).
If you must burn, take the time to ensure that all safety and regulatory precautions have been taken. Permits may be required for all open air burning except for small campfires contained within a fire ring. The permit from the Department of Natural Resources is in addition to and does not substitute for a permit from the local health department. For permit information, please call your local health department, fire department or contact your regional Department of Natural Resources Forest Service Office at (410) 260-8531 or go online at:
www.dnr.state.md.us/forest/wfm.asp
Tips for open air burning when the "Burn Ban" is NOT in effect:
Don't burn on windy days.
Have hand tools and a ready water supply on site.
Never leave the fire unattended.
Clear the area around the site for a minimum of ten feet.
Burn at a safe distance from your home, shed or other structures.
Never use gasoline! Gasoline fumes can ignite and cause serious injury and possible death.
Check your local and state regulations before burning.
Hazardous items are never allowed to be burned. Proper disposal of hazardous items such as tires, plastics, aerosol cans, oil, etc.; can be disposed of through means provided by your local government.
The open burning ban is in effect annually between June 1 and August 31. This burn ban involves the following counties:
Anne Arundel, Baltimore, Calvert, Carroll, Cecil, Charles, Frederick, Harford, Howard, Montgomery, Prince George's and Baltimore City.
The ban does not affect backyard barbeque grilling or open fires for recreational purposes, such as campfires, but should remain in a small (3' x 3' maximum / 9 square feet) area.
For more information on the burn ban, contact Maryland Department of the Environment Office of Air Quality at (410) 537-3231 or go online at:
www.mde.maryland.gov/researchcenter/publications/general/emde/vol2no3/ban.asp
Burning regulations are enforced by the Maryland Department of Natural Resources and local law enforcement agencies. Violations carry fines up to $1000 and/or one year in prison. The landowner can be charged with all of the costs associated with extinguishing the fire. Even small campfires can cause wildfires if they are not fully extinguished or left unattended. Soak the coals with lots of water and make sure they are out cold!
Media contact: Bruce D. Bouch, Deputy State Fire Marshal; 443-324-6876
1201 Reisterstown Road, Pikesville, MD 21208
For information regarding 'Open Burning and Permits' in Frederick County, MD - http://www.frederickcountymd.gov/index.aspx?NID=2431
The Union Bridge Fire Company will follow the regulations listed below, as well as the regulations posted by the Maryland State Fire Marshal's Office.
Guidelines for Open Burning in Carroll County
Open Burning and Permits
Currently, Carroll County does not provide permits and is not responsible for administering any authority concerning open burning. However, the State of Maryland does have open burning laws in effect that Carroll County does follow. With the exception of calendar dates that ban open burning, the following requirements are enforced in most Central Maryland Counties.
1. No practical alternative method for the disposal is available.
2. No hazardous condition, air pollution, or nuisance will be created.
3. The burn site is at least 500 yards from any occupied building or heavily traveled public roadway (numbered state highway).
4. Other agencies' law will not be violated.
5. NO burning of anything within 25' of a structure
6. Materials which produce dense smoke will not be burned.
7. Material burned must have originated on the premises.
Exceptions to the distance requirements may be granted for active agricultural operations, prevention of a fire hazard that cannot be abated by other means and instructional exercises for fire fighters or industrial employees. Recreational uses, salamanders, warming fires for outdoor workers, and leaves originating on the premises if the fire is at least 300 feet from the nearest occupied structure and does not create dense smoke do not require permits. Burning of trash as a means of refuse disposal is prohibited.
Guidelines for Open Burning in Frederick County
Definitions:
Cooking Fire: The non-commercial, residential burning of materials not exceeding 3 ft. in diameter and 2 ft. in height, other than rubbish in which the fuel burned is contained in an outdoor fireplace, a barbecue grill, or a barbecue pit for the purpose of preparing food.
Recreational Fire: The non-commercial burning of materials other than rubbish for pleasure, religious, ceremonial, cooking, or similar purposes in which the fuel burned is not contained in an incinerator, a barbecue grill, or a barbecue pit, and the total fuel area is not exceeding 3 ft.
Regulations - Recreational and Cooking Fire
Permits are not required for cooking or recreational fires.
Burning hours may be prescribed by the authority having jurisdiction.
Recreational fires shall not be located within 25 ft. of a structure or combustible material unless contained in an approved manner determined by the authority having jurisdiction.
Conditions that could cause a fire to spread to within 25 ft. of a structure shall be eliminated prior to ignition.
Open fires and cooking fires shall be constantly attended by a competent person until such fire is extinguished. This person shall have a garden hose connected to a water supply or other fire-extinguishing equipment readily available for use.
The authority having jurisdiction shall have the authority to prohibit any or all open fires when atmospheric conditions or local circumstances make such fires hazardous.
During that period of the year declared by the authority having jurisdiction to be the dry season, it shall be unlawful to set fires to any brush or forest-covered land.
On such occasions when the chief executive of the jurisdiction declares a dry season and establishes special regulations on the use of any form of fire or smoking material, the authority having jurisdiction shall have the authority to assist in the enforcement of such regulations.
For other than one and two-family dwellings, no hibachi, gas-fired grill, charcoal grill or other similar devices used for cooking, heating or any other purpose, shall be used or kindled on any balcony or under any overhanging portion or within 15 ft. of any structure. Listed electric ranges, grill, or similar electrical apparatus shall be permitted.
Every commercial incinerator and commercial barbecue fireplace shall be equipped and maintained with a spark arrestor and shall be maintained in good condition, working order, and repair at all times.
The authority having jurisdiction shall be authorized to require any fire to be immediately discontinued if the fire is determined to continue a hazardous conditions.
Rules and Recommendations - Outside Open Burns
Only wood, wood products and brush may be burned.
Do not burn logs, stumps, leaves, cardboard, paper, pallets or pressure treated boards.
The material to be burned must have originated on the premise.
Fires must be attended at all times with sufficient control equipment, especially when a fire hazard exists.
Steps should be taken to burn material as safely and quickly as possible to minimize smoke production.
Fire should not smolder over a long period of time.
Use a blower on large piles when necessary.
If a nuisance to a neighbor or a fire hazard is created, a public officer may have the fire extinguished.
It is recommended that no burning take place within 200 feet of habitable dwellings or businesses. Use paper, kindling, or kerosene to start fires.
Do not use tires or heavy oil. It is a violation of State laws to burn tires, heavy oil, roofing, or any material that creates black smoke.
If you are planning to burn in woodland and within 200 feet of woodland, or activities adjacent to or within an area where flammable materials that could ignite and carry fire to woodland, burning must be done between the hours of 4 p.m. and 12 midnight, EST.
For more information, call the Maryland Forest Service at (301) 473-8417.
Please call Central Alarm at (301) 600-1603 before and after burning.
During the months of June, July and August, NO burning will be allowed anywhere in the county due to fire hazards caused by extremely dry weather or during air pollution alerts when health is endangered. Permits will expire December 31 and the property owner will need to apply for a new one each calendar year.
Contact Information:
Frederick County Health Department
350 Montevue Lane
Frederick, MD 21702
Phone: (301) 600-1717